Alesis DM10 Pro Kit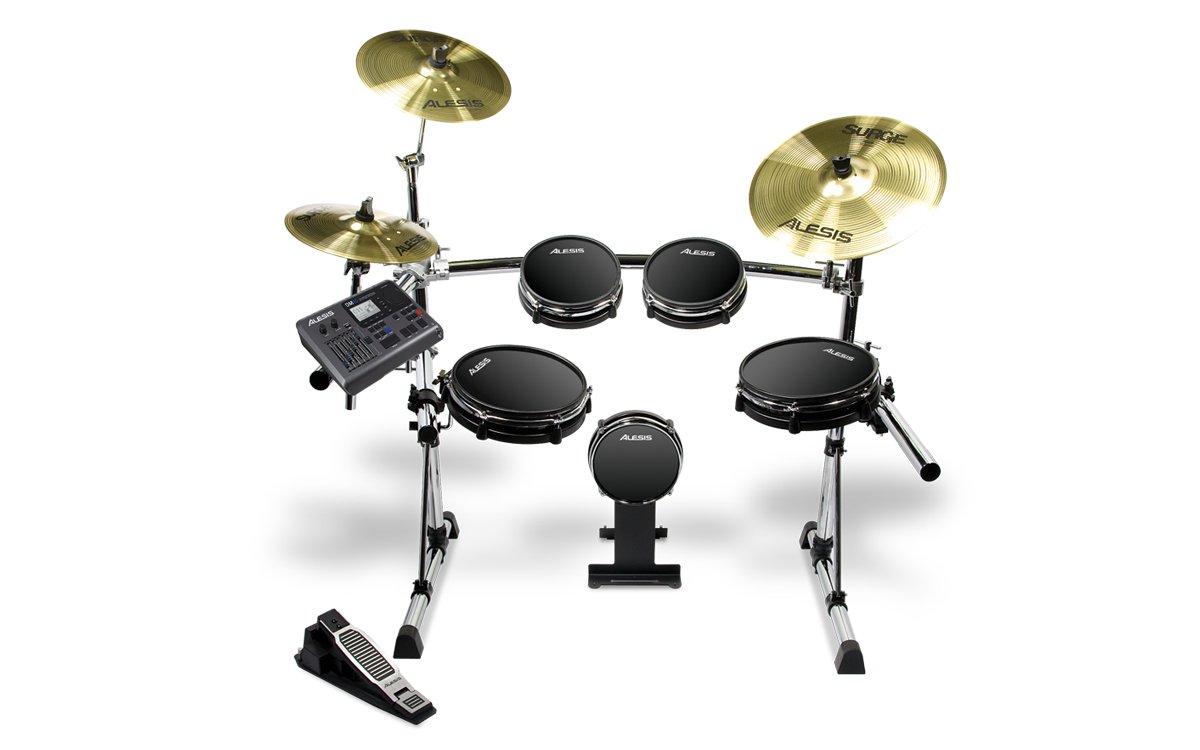 The DM10 Pro Kit is the product of extensive research and development efforts. Based around the completely new DM10 sound module, the DM10 Pro Kit features Alesis' RealHead drum pads, SURGE Cymbals made of real cymbal alloy and an ErgoRack mounting system.
DM10 MODULE
You will immediately notice the DM10 module's outstanding sound quality. This new drum sound module contains true drum, cymbal and percussion sounds, built from real samples of classic studio drums and prized cymbals. Drummers will find some of the most in-demand acoustic drum sounds from legendary drum brands, a huge arsenal of top producers' go-to snare drums, real American, Canadian, Chinese, and Turkish cymbals, and a choice selection of classic drum machine and electronic percussion sounds that have fueled the biggest hit records.
Discerning ears will notice that each sound is actually a series of different samples; multiple dynamic-level samples and articulations are all built in so as you play harder and softer, the drum or cymbal changes its timbre, not just its volume. This engineered realism is known as Dynamic Articulation™, an Alesis exclusive. You can play with or without reverb for different room sounds and enjoy a wide variety of rimshots, rim clicks and different stick-placement sounds on the cymbals. For example, a hi-hat's sound depends on a number of factors: how open or closed the pedal is, how hard it is struck, and other variables resulting in 40 different sounds – plus foot chick and heel splash.
The DM10 module not only has a breathtaking collection of sounds onboard, it is also the world's first drum-sound module that enables you to load new sound sets via USB connection from your computer. This means that your sounds will always stay fresh, current and cutting edge.
You can also use the DM10 as a trigger-to-MIDI interface for performing and tracking with software drum modules such as BFD, Toontrack and Reason, among others. For practice, you can play along with the tracks in the DM10's internal sequencer, mix in an iPod or other MP3 player and play along.
The DM10 module has 12 trigger inputs, perfect for creating custom configurations. The DM10's top-panel mixer gives you easy access to creating custom mixes.
REALHEAD DRUM PADS
The DM10 Pro Kit has Alesis' acoustic-feeling RealHead pads in eight and 10-inch sizes. The dual-zone pads feature real mylar drumheads and real triple-flanged counterhoops for the feel you demand. The snare and tom pads are dual zone, enabling you to perform rimshots, rim clicks or assign other sounds such as wind chimes, cymbals, gongs and cowbells on the tom rims.
You can use virtually any single or double kick pedal with the RealHead Kick Pad, or split the DM10's kick input with a Y-cable and connect an optional second kick pad for the pedal feel you prefer.
SURGE CYMBALS
The DM10 Pro Kit comes with premium SURGE Cymbals, the only serious choice in electronic cymbals. The kit includes a 12-inch SURGE Hi-Hat Cymbal, a 13-inch SURGE Crash Cymbal with choke and a 16-inch SURGE triple-zone Ride Cymbal with choke. Comprised of a genuine alloy cymbal coated with a clear sound-dampening layer, SURGE Cymbals feel like acoustic cymbals because they begin life as just that. The Crash and Ride cymbals feature large choke strips on the undersides for even more attention to accurate cymbal control. The SURGE Ride also features multiple-zone triggering on the bell, face and edge. The SURGE Hi-Hat Cymbal offers continuously variable control using the included pedal.
ERGORACK
The DM10 Pro Kit features an ergonomically curved, chrome-plated ErgoRack.
It is heavy gauge, heavy duty and supremely adjustable. The ErgoRack is large enough to enable you to add on additional drum pads and SURGE Cymbals. You can even mount acoustic drums, cymbals, and percussion instruments on this roadworthy system.
It employs standard one and one-half-inch tubing for compatibility with virtually all drum manufacturers' rack hardware. The rack features quick-release, metal clamps for fast setup and tear down. The Crash and Ride cymbals mount on large, knurled boom cymbal arms that are height adjustable right in the rack down tubes. The DM10 Pro Kit comes with tom mounts that enable freely adjustable mounting. Drummer-friendly wing-screws are present on all important rack clamps and pads for ease of adjustment without reaching for a drum key. The drum pads mount on standard 10.5mm L-rods with low-slip, knurled mounting surfaces.
Experience electronic drumming like never before with the DM10 Pro Kit, only from Alesis.
KEY FEATURES
DM10 drum module with 12 trigger inputs and mixer
RealHead acoustic-feel 8″ and 10″ dual-zone drum pads with real heads
SURGE Cymbals are alloy acoustic cymbals with triggers
12″ SURGE Hi-Hat, 13″ SURGE Crash with choke, 16″ SURGE Ride with choke
Ergonomically curved, chrome-plated ErgoRack
Premium instrument library sampled from real drums and cymbals
Dynamic Articulation™ changes sounds' timbre along with dynamics for realism
Sound-set loading and use with software drum modules, both via USB
Works with iPad via Apple USB Adapter (sold separately)
Play along and record yourself with the sequencer
Mix input for practicing with CD and MP3 players
Includes:
(1) DM10 drum module
(2) 8″ RealHead Drum Pads
(2) 10″ RealHead Drum Pads
(1) 8″ RealHead Kick Pad with tower
(1) 12″ SURGE Hi-Hat Cymbal
(1) 13″ SURGE Crash Cymbal
(1) 16″ SURGE Ride Cymbal
(1) ErgoRack with mounting clamps and arms
(1) Hi-Hat pedal
(1) Set of interconnection cables
Alesis DM10 Pro Kit: Introduction
Join the conversation! http://community.alesis.com http://www.facebook.com/alesis http://www.twitter.com/alesis.
SPECS
PLAYBACK
Polyphony: 64 voices
Memory: 128 MB, linear
AUDIO AND TRIGGER I/O
Audio inputs: stereo (2x RCA)
Trigger inputs: 12x 1/4″ TRS
Hi-hat controller input: continuous compatible (1x 1/4″)
MIDI: In, Out (2x DIN MIDI)
Audio outputs: stereo Main (2x 1/4″ balanced), stereo Aux assignable (2x 1/4″ balanced)
Headphone output: stereo (1x 1/4″ TRS)
Computer: High-speed USB for MIDI and computer transfer (1x USB slave)
SOUND SET AND SEQUENCES
Preset sounds: 1,047
Preset sound type: 16-bit uncompressed samples
Preset kits: 100 (all kits can be overwritten)
Sequencer patterns: 75 preset, 25 user (all patterns can be overwritten)
SOUND TYPES
Basses:    55
Beatbox: 55
Beat/drum machine: 59
Chinas: 13
Crashes: 36
Hi-hats: 25
One-hits: 349
Kicks: 91
Percussion: 151
Rides: 28
SFX: 31
Snares:    85
Toms: 69
Dimensions:
Packaging: (WxDxH) 29″ x 13.25″ x  42.5″
Weight:
63 lbs