Alesis DM6 USB Express Kit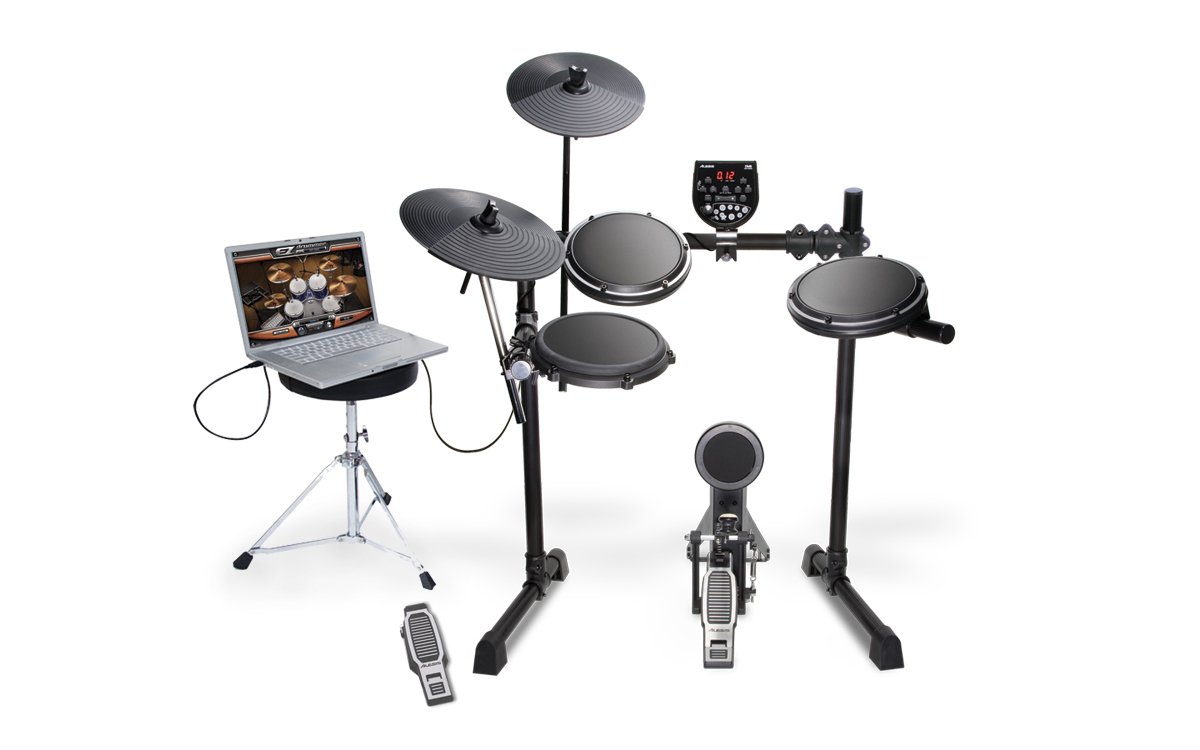 The DM6 USB Express Kit will have you up and playing a full drum kit in no time. Like the kits of today's biggest drummers, the DM6 USB Express Kit is a four-piece set with natural-feeling drum and cymbal pads with hi-hat pedal and a rock-solid rack to keep everything in it's place. The DM6 USB Express Kit's drum and cymbal pads are designed to stay quiet during the heaviest assaults, so you won't disturb your neighbors as you rock the night away. The DM6 drum module gives you 108 great-sounding, modern drum, cymbal, and percussion sounds to create up to 15 total drum kits that speak for you. Expand your sonic palette by plugging into your Mac or PC with a single USB cable. Get on the fast track to rock-stardom with the DM6 USB Express Kit!
UNMISTAKABLE ALESIS FEEL
Like all Alesis drum sets, the DM6 USB Express Kit features realistic, natural-feeling playing surfaces. To reduce vibration feedback, we selected natural rubber drum and cymbal surfaces for the DM6 Express Kit's pads. This four-piece kit gets you started on a dual-zone snare pad for two-sound compatibility. You can dial in a snare drum sound in the center and a rim click, rimshot, or something totally different like a cowbell on the rim.
The DM6 USB Express Kit also comes with two tom pads, an upright kick drum pad, hi-hat and crash cymbal pads. It even comes with an Alesis bass drum pedal and the kick pad is compatible with any single or double bass drum pedal for your personal feel.
OUTSTANDING SOUND
The DM6 module features an internal collection of top-notch drum, cymbal, and percussion sounds that will blow you away. You can edit any one of the 10 preset kits and save your custom sounds within 5 custom slots. In addition to the sounds in the DM6 module, there's a USB output that sends the notes you play out as MIDI signals. This allows you to use the DM6 as a trigger-to-MIDI interface with drum-module software such as BFD, Toontrack, or Reason for a limitless collection of sounds.
The DM6 drum module has headphone and amplifier outputs so you can play quietly in phones or connect up and rock out. Plug in an iPod or CD player to DM6's stereo input jack and perform along with your favorite music.
UPGRADING IS EASY
Nobody likes being left without a way to upgrade. Fortunately, everything you need to expand your DM6 USB Express Kit is built right in. If your drumming needs grow and you want to add to your kit, we've made it easy. You can order a DM6 Cable Snake with additional inputs on it, a DMPad 8″ Single-Zone Pad or DMPad 12″ Cymbal using the Related Products links on the right of this page. When your new gear arrives, simply connect the new cable snake to your DM6 module and the other end to the new cymbal or drum pad and you're ready to rock.
PRACTICE TOOLS
The DM6 module has a metronome, an essential tool for keeping steady time whether you're practicing alone or with a band. The DM6 module also has a built-in sequencer with 40 preset music tracks.
RUGGED HARDWARE
A drumset is only as strong as its weakest link. The DM6 USB Express Kit mounts on a heavy-duty aluminum rack. The standard 1 1/2″ tubing enables you to add on with Alesis and other brands' clamps and mounts. The DM6 USB Express Kit also comes with a full set of mounting hardware and cables, as well as rugged kick drum and hi-hat pedals.
Get more than you ever thought possible with the DM6 USB Express Kit.
BFD is a trademark of FXpansion Audio UK Ltd.
Toontrack is a registered trademark of Toontrack.
Reason is a trademark of Propellerhead Software AB.
iPod is a trademark of Apple Inc., registered in the U.S. and other countries.
Alesis DM6 USB Express Kit Electronic Drumset Review | UniqueSquared.com
To purchase Alesis gear visit our website: http://www.uniquesquared.com/alesis For an in depth review go here: ...
KEY FEATURES
Four-piece, complete electronic drumset with hi-hat and cymbal pads
DM6 module contains 108 top-notch drum, cymbal, and percussion sounds
USB-MIDI output for use with drum-module software
Works with iPad via Apple USB Adaptor (sold separately)
Realistic, natural-feeling playing surfaces
Velocity sensitive for natural, musical response
Bass drum pedal included
15 programmable drum sets
Dual-zone snare pad
Connect your iPod or CD player and mix it in with 1/8″ input
Drumsticks included
EZ Drummer Lite software included
Includes:
DM6 drum module
DMPad 8″ dual-zone snare
(2) DM 8″ single-zone toms
DMPad kick pad
(2) DMPad 12″ cymbals
DMKick pedal
DMHat control pedal
ProRack metal stand with all mounting hardware
Cable snake
Drumsticks, pair
Drumkey
Power supply
Quick start guide
EZ Drummer Lite software
SPECS
DM6 USB Express Kit pads:
DMPad Kick Pad with stand and pedal
DMHat Pedal hi-hat controller
DMPad 8″ Dual-Zone snare pad
2 DMPad 8″ Single-Zone tom pads
2 DMPad 12″ hi-hat and crash cymbal pads
DM6 Module
Kits: 10 Preset, 5 User Kits
Patterns: 40 Preset, 1 User
Sounds: 108
Inputs: 1/8″ stereo mix-in, 25-pin D-sub for cable snake
Outputs: 1/8″ stereo master, 1/8″ headphone
USB for trigger-to-MIDI interface
Power: 9V AC, adapter included