Roland Electronic Drums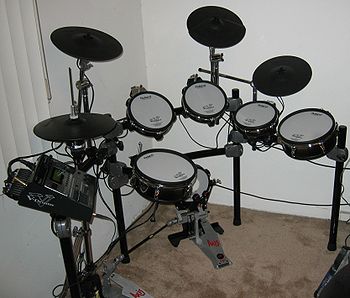 Roland Corporation (ローランド株式会社 Rōrando Kabushiki Kaisha?) TYO: 7944 is a Japanese manufacturer of electronic musical instruments, electronic equipment and software. It was founded by Ikutaro Kakehashi in Osaka on April 18, 1972, with ¥33 million in capital. In 2005, Roland's headquarters relocated to Hamamatsu in Shizuoka Prefecture. Today it has factories in Italy, Taiwan, Japan, and the USA. As of March 31, 2010, it employed 2,699 employees.[1] It has existed in different forms since 1960, making it relatively old among still-operating manufacturers of musical electronics. Known for hundreds of popular synthesizers, drum machines, and other instruments, Roland gained a name as one of the top names in professional music equipment in the late 1970s and early 1980s.
Source Wikipedia:  http://en.wikipedia.org/wiki/Roland_Corporation
V-Drum is a trademarked umbrella term for a variety of electronic drums, drum brain modules, and related electronic percussion product manufactured and trademarked by Roland Corporation.
The primary V-Drum products are complete electronic drum kits. These vary in price and complexity, ranging from a few hundred dollars to approximately US$6,000. Components such as additional triggers and modules are also sold individually to augment an existing kit.
Like most electronic drum modules, V-Drum drum modules are MIDI-capable. This enables the player to use a V-Drum kit to control not only the kit itself, but other MIDI-capable instruments, such as digital samplers. MIDI also allows V-Drum kits to be controlled by other MIDI-capable instruments. V-Drums, like most electronic drum kits, can output to an amplifier, recording device, or headphones.
Source Wikipedia:  http://en.wikipedia.org/wiki/Roland_V-Drums