Roland TD-4K2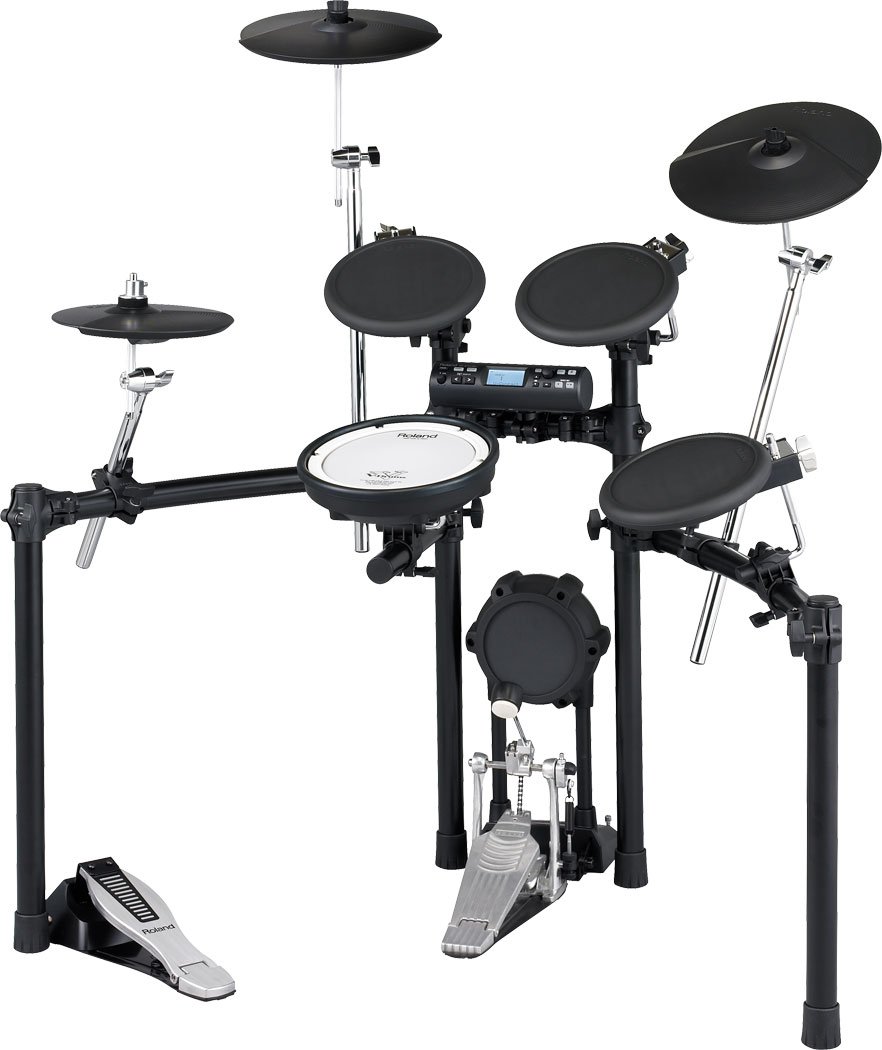 The most affordable V-Compact® series from the V-Drums® family is also undergoing new upgrades and refinements with a new Kick Pad and V-Cymbals®. With its improved playability, the new kits help you maximize your performance and practice time. Get better faster with the built-in Coach and Quick Rec/Play function.
The most compact and affordable V-Drums, featuring a mesh-head snare (PDX-8) and a cloth-head Kick Pad (KD-9)
Authentic percussion instruments onboard the TD-4 sound module
Dual-trigger cymbal pad for crash and ride (CY-8)
The TD-4K2 components are packaged in two boxes as follows:
Box 1 (TD-4K2)
(1) TD-4 Percussion Sound Module with multi-pin cable harness and module mount
(1) PDX-8 Mesh Pads
(3) PD-8 Dual-Trigger Pads
(1) KD-9 Kick Trigger Pad
(2) CY-8 Cymbal Pad
(1) CY-5 Cymbal Pad
(1) FD-8 Hi-Hat Control Pedal
Box 2 (MDS-4)
This includes the drum set rack, and the clamps and arms for both the pads and cymbals.
Kick drum pedal not included
Kit Configuration
Percussion Sound Module: TD-4 x 1
V-Pad (Snare): PDX-8 x 1
Pad (Tom 1, Tom 2, Tom 3): PD-8 x 3
Cymbal Pad (Crash/Ride): CY-8 x 2
Cymbal Pad (Hi-Hat): CY-5 x 1
Kick Pad: KD-9 x 1
Hi-Hat Control Pedal: FD-8 x 1
Drum Stand: MDS-4 x 1 (sold separately)
* Kick Pedal and Drum Throne are not included.
Extra Trigger Input
Accessories
Options (sold separately)
Cymbal Mount: MDY Series, Pad Mount: MDH Series, Personal Drum Monitor: PM-10/PM-30, V-Drums Accessory Package: DAP-3, V-Drums Mat: TDM-10
Size and Weight
Width
Depth
Height
Weight
Gear Review Roland TD4K2
KAOS drum specialist Bill Bates presents Roland's entry level electronic V Drum kit, the TD4K2. Lots of info but no playing examples.