Roland TD-9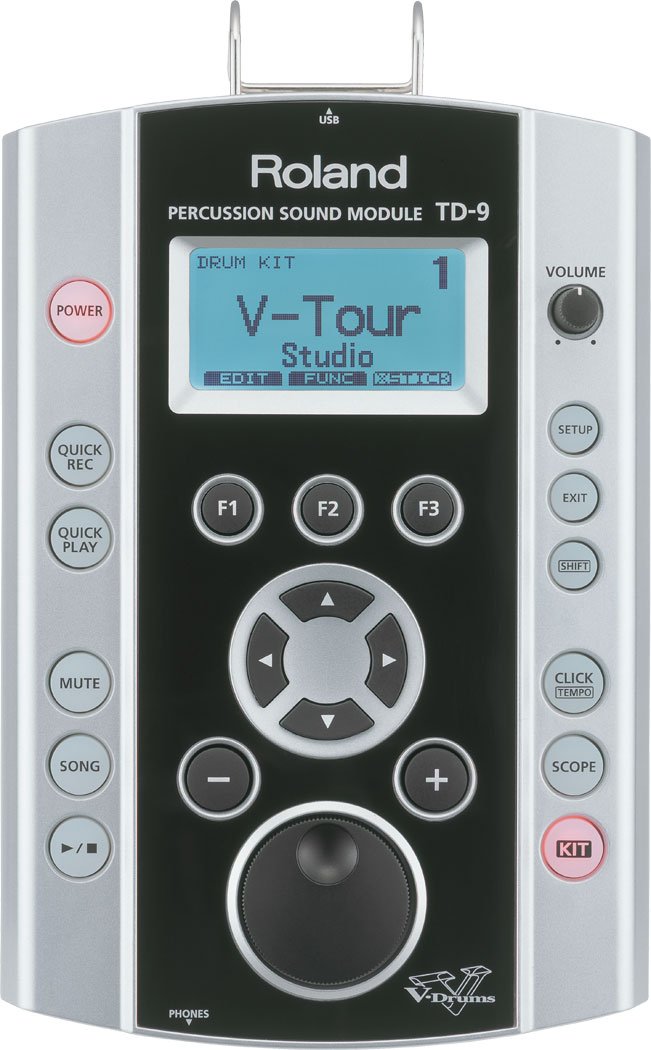 The TD-9 is the anchor of Roland's new mid-line V-Drums kits. With hundreds of new sounds, real-audio songs and patterns onboard, plus new Scope and Quick Rec/Quick Play practice functions, full V-Hi-Hat (VH-11) compatibility, and three-way ride triggering available, the TD-9 raises the bar significantly in its price range.
Expressive new sounds, real-audio songs and patterns
Scope function with graphical LCD display
USB host for audio-file (WAV and MP3) playback
Fast, Friendly, Fun
No more squinting at a small screen — the TD-9 is outfitted with a luxurious, large backlit display with accompanying oversized buttons and controls. Its friendly, icon-based user interface makes editing sounds and customizing kits fast and fun.
Interactive Innovation
Play along with real-audio backing songs to build your musical experience base. Use the USB port to play along with audio files of your choice (WAV, MP3), back up your data, or save a "quick record" performance. The "Quick Record" and "Quick Play" features allow you to immediately record and play back solo drum parts, or drum parts performed with the backing songs. Special connecting cable allows for fast, clean and easy connection to the pads.
Roland TD-9 Sound Module - Guide
All you need to know about the Roland TD-9 V-drums Module in one video. Learn why the TD-9 is one of the best electronic drum modules. Find V-drum Tips on: ...
Specs
Instruments
Drum Kits
Instrument Parameters
KICK: Head Tuning, Muffling
SNARE: Head Tuning, Muffling
TOM: Head Tuning, Muffling
HI-HAT: Cymbal Size, Fixed Hi-Hat
CYMBAL: Cymbal Size, Sustain
OTHERS: Pitch, Decay
Effect Types
Ambiance (9 types), 2-Band Equalizer
Ambiance Parameters
Room Type,
Room Size,
Wall Type,
Mic Position,
Room Shape
Mixer Parameters
Percussion Set
Song
Preset Songs: 50
Parts: 4
Play Function: One shot, Loop, Repeat
Tempo: 20-300
Quick Rec
Resolution: 480 ticks per quarter note
Recording Method: Real-time
Maximum Note Storage: Approx. 32,000 Notes
Audio File Format
Display
128 x 64 dots Graphic Type LCD (backlit LCD)
Connectors
Trigger Cable connector (DB-25 type), (Kick, Snare, Tom 1, Tom 2, Tom 3, Hi-Hat, Crash 1, Ride, Ride Bell, Hi-Hat Control),
Extra Trigger Input Jacks: 2 (CRASH2, AUX) (Stereo 1/4 inch phone type),
Output Jacks (L (MONO), R) (Stereo 1/4 inch phone type),
Phones Jack (Stereo 1/4 inch phone type), Mix in Jack (Stereo miniature phone type),
MIDI Connectors (IN, OUT/THRU),
USB Connector (for USB Memory)
Output Impedance
Power Supply
Current Draw
Accessories
Owner's Manual,
Quick Start Guide,
AC Adapter (PSB-1U),
Special Connection Cable,
Wing Bolt (M5 x 10) x 2,
Sound Module Mounting Plate
Options
Pads (PD-8, PDX-8, PD-85, PD-105, PD-125),
Cymbals (CY-5, CY-8, CY-12R/C, CY-14C, CY-15R),
Kick Triggers (KD-8, KD-85, KD-120),
Hi-Hats (VH-11),
Hi-Hat Control Pedal (FD-8),
Stand (MDS-9),
Cymbal Mount (MDY-10U),
Pad Mount (MDH-10U),
Personal Drum Monitor (PM-10, PM-30),
V-Drums Accessory Package (DAP-3),
V-Drums Mat (TDM-10)
Size and Weight
Width
Depth
Height
Weight