Yamaha DTX2U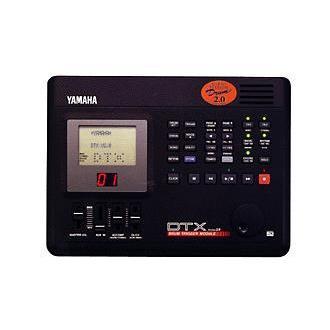 A Versatile and Responsive Drum Trigger. A Powerful and Flexible Sequencer.
[easyazon_block add_to_cart="default" align="left" asin="B004BA48P8″ cloaking="default" layout="left" localization="default" locale="US" nofollow="default" new_window="default" tag="electroni06ce-20″]
Silent Session Drum Trigger Module
The DTX2U supplies more sounds, more expressive power. New kits and sounds include 29 additional drum kits plus 12 new hi-hat and 33 new rim voices. Both rim and pad voices can be simultaneously triggered. A variable gate time can be assigned to each note in the alternate and stack modes.
A Complete Workstation
The click track is controlled with the start and stop buttons. Headphone only mode sends the click directly to the headphones. Volume and pan settings can be edited in the song job mode. The selected drum kit is always effective, even when a different song or pattern is selected, if rhythm track is muted.
Display
The large liquid crystal display (LCD) shows a wealth of data in a format that is both easy to see and understand. A large, double-digit LED display keeps you informed of the current drum kit number at a glance.
Transport Buttons
Large transport buttons on the front panel provide quick and easy access to playback, record, and other sequencer functions. The remaining buttons are clearly labeled for easy access to common functions. Now programming is easy!
4 Sliders
The basic function of the 4 sliders is for master, aux in, accompaniment and click volume controls. They can also be assigned to control four individual drum output levels, giving you more control over the DTX's sound balance in live situations.
Data Scroll Wheel
Selecting your desired setting is quick and easy with the Data Scroll Wheel.
Input/Output
The DTX uses a 10 input and 4 output interface to provide enough capacity to handle complex pad setups. 8 of the 10 channels are dual trigger type; channels 9/10 and 11/12 are independent trigger types. 4 outputs-Stereo L/R and two auxiliary outputs offer extended output processing capabilities. Individual voices can even be assigned to the auxiliary out for further sound control.
AUX
A stereo AUX input allows an external sound source, such as a CD player, tape deck, etc., to be mixed with the DTX's drum sound. Now you can play-along with your favorite recordings.
MIDI IN/OUT
Full MIDI compatibility makes the DTX perfect for any MIDI studio, and allows the option of adding on to the system in the future. Trigger external tone generators by playing pads through the DTX, or record from an external keyboard into the on-board sequencer.
Drum Kit Play Mode
The 928 drum and percussion voices, covering a wide range of musical styles, are set up into 61 preset drum kits. You can also edit kits to create your own original drum kits. With such a wide range of possibilities at your fingertips, it is easy to achieve the sound and set-up you want.
Voice Edit Mode
Create your own sounds using the easy modify function, or by changing pitch, or by adding reverb effects to voices. They can be saved to memory and stored in your own customized kits.
Polishing Your Technique
The DTX2U will also assist you in polishing your technique. Independent pattern parts can be muted or soloed, and with independent click track control, you can practice triplets and other polyrhythms easier than ever before.
Chain Mode
Specific kits or patterns can be recalled in a defined order during performance. A total of 16 chains can be saved and recalled at the touch of a button or the strike of a pad.
Trigger Edit Mode
Trigger Mode allows settings for velocity, sensitivity, and volume levels to be saved in user kit memory as your original set-ups.
Auto Set
A single pad's input level and MIDI velocity is graphically displayed on the LCD. Strike the pad and optimum gain values are set.
Pad Gain
Use the graphic display as a reference to manually adjust the gain of individual pads in precise increments.
Rejection Mode
Interference from other pads (cross talk) can be eliminated using the Rejection Mode. Offering a totally new approach to playing, the DTXU2 also allows you to assign up to 5 MIDI notes to individual pads, which can then be played in various ways. This feature can add a whole new tonal palette to your sound.
Stack Mode
The 5 assigned MIDI notes are triggered simultaneously as a chord. Drum voices, layered percussion, orchestra hits, or full chords are all possible.
Alternate Mode
Assign up to five notes and play them back one per each stroke on the pad. This allows you to create and play melodic phrases from the same pad. Version 2.0 offers more flexibility with assignable gate times for each of the five notes, the ability to assign less than five notes, and simultaneous triggering of a bass drum voice and bass notes from the kick pad.
Hold Mode
Strike the pad, and the 5 assigned notes are sustained until the pad is hit again. This mode can be used in conjunction with both Stack and Alternate Modes.
Velocity Cross Fade
Simulate acoustic drum nuances by assigning soft and loud voices to the same pad, to be separately triggered according to how hard or soft you play. It is also possible to control the balance of stacked voices in the Stack Mode using Velocity Cross Fade. Pads can also be used as switches to start and stop playback of patterns and songs. You can connect the MIDI OUT of the DTX to play an external tone generator with the pads, or to record data to computer based sequencers for instance.
Pattern Play Mode
With a total of 660 preset patterns (110 x 6 sections) and 100 user patterns, the DTX2U is sure to exhilarate your artistic talent. Complete rhythm, bass and chord parts are arranged into sections such as intro, main, fill in, ending, etc., and can be used to make songs, or simply for jamming. You can also record your own original patterns for use in compositions or as a teaching or practice aid.
Song Play Mode
Choose from 100 preset songs or 30 user songs and jam away. Each track can be muted or soloed just as in the pattern mode. You can mute the drum part and play the drums yourself, mute the keyboard and play the keyboard, solo the bass part and play along with it, etc. Using the DTX as a training aid, you can better understand how your parts fit with the rest of the band.
Record and Playback
Songs are easy to record and playback so you can get your ideas recorded and hear how they sound quickly. The DTX2U is also General MIDI compatible. Connecting the DTX to a computer or external sequencers can access GM data.
Groove Check
If you want to improve you're timing. Groove Check is the perfect training aid. Select a pad to play in the Single mode, and see just how accurate your timing is on that particular pad. The Average mode will give you an overall score on your accuracy over the entire kit.
More Power, More Playability
The DTX2U and the addition of some new pads like the PCY10 Cymbal Bell Pad, KP80S Kick Pad and the BP80 Bar Pad, make the Yamaha DTX electronic percussion system the most practical electronic percussion system ever. Techniques such as articulate buzz rolls, rim shots, double bass, percussion, and cymbal chokes, that were previously possible on acoustic drums only, can be played with the DTX system's extended capabilities.
1056 On-Board Voices
Have fun practicing with the on-board training functions, and more. The DTX2U is one of the most interactive electronic drum systems and sets new standards for modern drumming. The 1056 on-board voices include: 880 drum and percussion voices, and effects, as well as 48 bass, brass and strings, and mallet voices and 128 GM (General MIDI) compatible keyboard sounds, all produced with Yamaha's Advanced Wave Memory (AWM2) technology.
Techniques
Push your imagination by exploring the vast sonic palette and advanced functions. Layer up to 5 notes on one surface to play stacks of notes or alternating patterns. Trigger keyboard sounds from the pads.
On-Board 5-Track Sequencer
There's also an on-board 5-track sequencer that lets you record MIDI data from the DTX system and external MIDI keyboards as well.
Studio or Live Performance
With its extensive capabilities and excellent voices, the DTX system is perfect for studio use or live performance. The system can be used alone or incorporated into acoustic drum systems. Whatever your skill level may be, the DTX system is the one system that meets the needs and requirements of every drummer.
Specs
| | |
| --- | --- |
| Tone Generator | 16 bit AWM 2 (PCM) |
| Maximum Polyphony | 32 |
| Voices | 880 drum, percussion voices and effects; 48 additional voices; 128 keyboard voices (AWM2) |
| Sequencer Tracks | 2 (TR1, TR2) |
| Backing Tracks | 3 (pattern, chord, tempo) |
| Songs | 100 preset plus 30 user memory locations. |
| Patterns | Style/110 preset plus 100 user memory locations; Section/INTRO, MAIN-A, MAIN-B, FILL-AB, FILL-BA, ENDING |
| Record Modes | Real-time and Step-time |
| Controls: Push Switches | 28(DRUM KIT, TRIGG, CHAIN, VOICE, SONG, PATTERN, UTILITY, STORE, NO/-1, YES/+1, PAGE-, PAGE+, CURSOR LEFT, CURSOR RIGHT, TEMPO, SHIFT, TR1, TR2, BASS, RHYTHM, CHORD, SOLO, CLICK, PAUSE, REWIND, PLAY/STOP, FORWARD, REC) |
| Controls: Slide Volume | 4 (MASTER VOLUME, ACCOMP. VOLUME, AUX VOLUME, CLICK VOLUME) |
| Other Controls | Data Scroll Wheel, LCD Contrast Control |
| Display | Custom LCD display; Double digit, large 7 segment LED; Mute, sequencer LED indicators: 8 |
| Connections | MIDI input, output; Foot controller (stereo phone jack); Foot switch (mono phone jack); Output L/MONO (mono phone jack);Output R (mono phone jack); Aux output L (mono phone jack); Aux output R (mono phone jack); Aux input (stereo mini jack); Head phone (stereo phone jack); Trigger input 1~8 (stereo phone jack-L: trigger, R: sw) :8; Trigger input 9~12 (stereo phone jack -L, R: trigger):2; Trigger attenuation switch 1~12 (DIP SW) |
| Power Supply | AX 12V/AC adaptor (PA-1207 or PA-3B) |
| Dimensions (W x D x H) | 300 x 220 x 57 mm (11 13/16″ x 8 11/16″ x 2 1/4″) |
| Weight | 1.4 kg (3 lbs. 2 oz.) |