Yamaha DTX900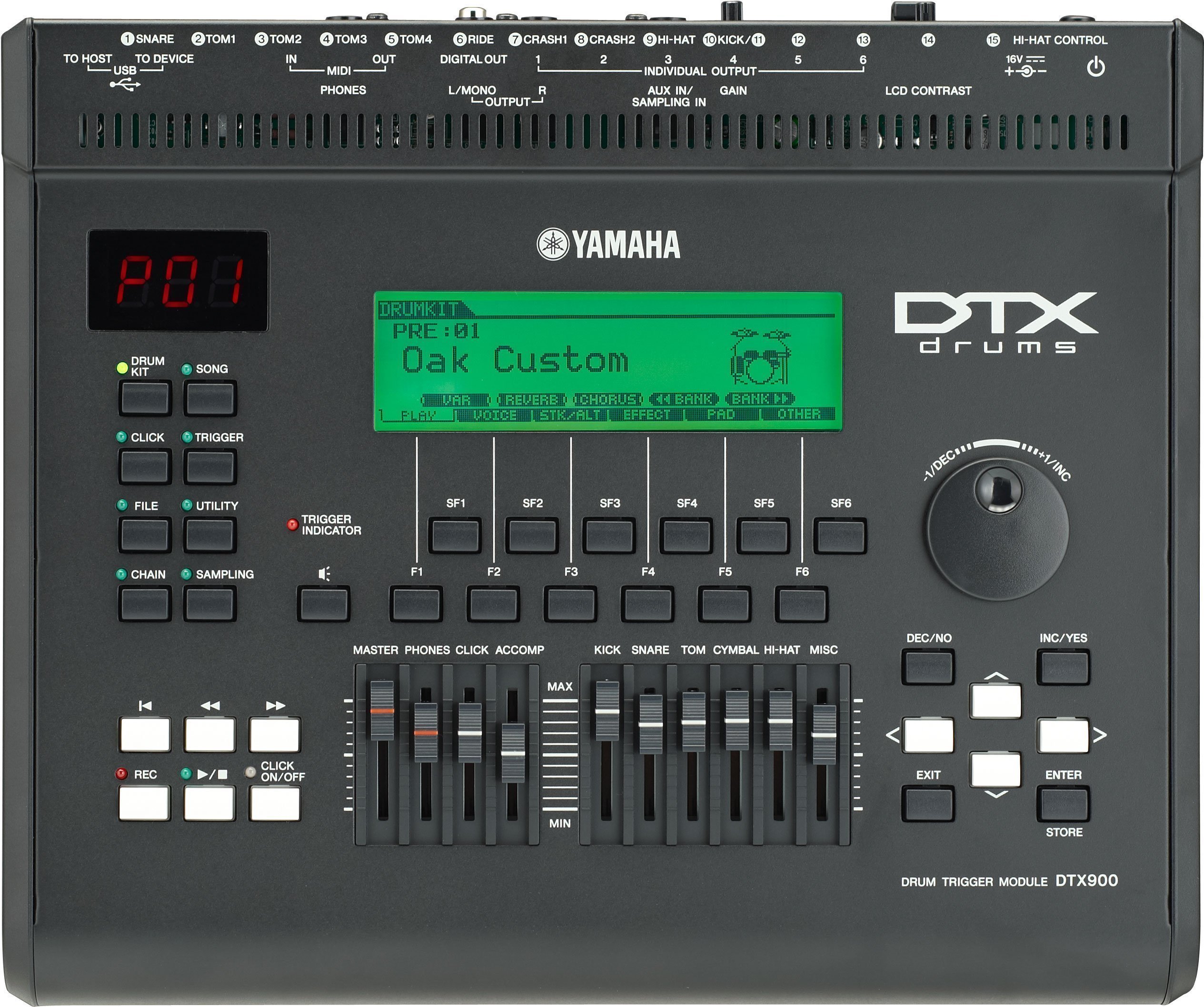 High-Quality Tone Generator That Meets the Demands of Live Performances and Recordings
The DTX900 has versatile drum kits that can be used with a variety of genres. Not only does the DTX900 contain the sounds of Yamaha's major acoustic drums, the Oak Custom, Birch Custom, and Maple Custom Absolute, it also contains new drum and percussion sounds recorded by our engineers. Using the DTX-PAD makes even more realistic and expressive performances possible. Also, the XA (Expanded Articulation) System, which creates subtly different samples even when you strike the drum with the same strength, can create more natural snare rolls and accurately recreate to the finest detail the feel of a Hi-Hat or ride cymbal.
The DTX900's effects enable you to create the original sounds that you want. These effects include reverb, chorus, 9 types of master effects, and 51 types of variation effects.
In addition, you can add original sounds to a drum kit and perform with them by transferring audio data (WAV and AIFF files) from USB flash memory or by directly sampling signals received through the AUX IN/SAMPLING IN connector.
* You need a DIMM (sold separately) to load and sample audio data.
Drummers can expand their expressiveness in a multitude of ways, such as by changing drum sets during a performance (something which is impossible with acoustic drums) or by performing as a one-man ensemble of percussion sounds and effects.
The Achievement of Efficient Music Creation through Connection with a PC
The DTX900 comes with Cubase AI, a DAW (digital audio workstation) software application from Steinberg.
The DTX900 has a USB TO HOST connector that enables you to connect to a computer using a single USB cable (sold separately). Even if you aren't comfortable using keyboards, you can input MIDI data and create music by hitting the pads. And you aren't just limited to adjustments of pitch and rhythm, you can also make finer musical adjustments. Also, if you install DTX900 Extension, you can control Cubase AI directly from the DTX900 panel and create music efficiently.
Yamaha DTX920K Electronic Drum Kit Performance with Steven Fisher
Find exclusive Yamaha DTX920 BUNDLES at Kraft Music: ...
Specs
Size/Weight
Dimensions
Width
334 mm (13-5/32 inch)
Height
96 mm (11-15/64 inch)
Depth
285 mm (3-25/32 inch)
Weight
Weight
3.6 kg (7.94 lbs)
Tone generator
| | |
| --- | --- |
| Maximum Polyphony | 64 notes |
| Voices | Drum and percussion: 1,115, Melodies: 211 |
| Effects | Reverb: 9, Chorus: 19, Variation: 51 (Drum Kit), Insertion: 51 (AUX IN/SAMPLING IN), Master Effect: 9, Master EQ: 5 bands |
| Drum kits | Preset: 50, User: 50, External: 1,584 (or 99 x 16, in the external USB storage device) |
Sequencer
| | |
| --- | --- |
| Note Capacity | Approx. 152,000 notes |
| Note Resolution | 480 ppq (parts per quarter note) |
| Song recording type | Real time |
| Song tracks | 2 tracks |
| Songs | Demo: 3, Practice: 44, Pad: 40, User: 50 |
| Sequence formats | Proprietary, SMF format 0 |
Click
| | |
| --- | --- |
| Tempo | 30 to 300 BPM, Tap Tempo supported. |
| Beat | 1/4 to 16/4, 1/8 to 16/8, 1/16 to 16/16 |
| Timing | Accent, Quarter note, Eighth note, Sixteenth note, Triplet |
| Training Functions | Measure break, Groove check, Rhythm gate |
Other
| | |
| --- | --- |
| Connectors | USB TO DEVICE/TO HOST, OUTPUT [L/MONO] (Standard mono phone), OUTPUT [R] (Standard mono phone), DIGITAL OUT (EIAJ CP1201, IEC60958, S/P DIF), INDIVIDUAL OUTPUT 1 to 6 (Standard mono phone), Trigger Input 1 to 9, 12 to 15 (Standard stereo phone, L: Trigger Input, R: Rim Switch), Trigger Input 10 and 11 (Standard stereo phone, L: Trigger Input, R: Trigger Input), HI-HAT CONTROL (Standard stereo phone), AUX IN/SAMPLING IN (Standard stereo phone), PHONES (Standard stereo phone), MIDI IN/OUT |
| Accessories | Power Adapter (PA-300B, or an equivalent), Module holder, Module holder fastening screws x 4, Owner's Manual, Data List, DVD-ROM (Cubase AI) |
Audio Import
| | |
| --- | --- |
| Sampling | Available *Requires Optional DIMM installed |
| Samples | 1,016 |
| Sample Data Bits | 16bits |
| Sampling Time * Mono/Stereo | 44.1kHz: 6 min. 20 sec., 22.05kHz: 12 min. 40 sec., 11.025kHz: 25 min. 20 sec., 5.5125kHz: 55 min. 40 sec. |
| Sample formats | Proprietary, WAV, AIFF |