Yamaha DTXP U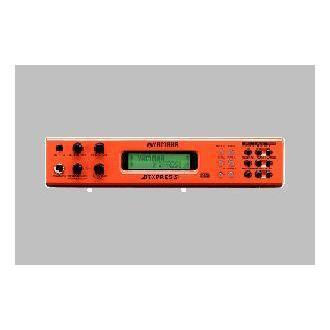 More than a Drum Trigger, the DTXPRESS is a Multi-Function Digital Machine
DTXPRESS
Beginner or advanced, the DTXPRESS is an affordable instrument with feature for everyone. Along with its highly responsive drum trigger system, the DTXPRESS possess over 900 high quality drum voices and 128 different GM (General MIDI) keyboard voices all made with Yamaha's AWM2 (Advanced Wave Memory) technology.
Rhythm Machine
The DTXPRESS functions as a rhythm machine that provides a wide variety of rhythmic styles from which to choose. There is also an easy to use 2-track sequencer that lets you create your own original songs whenever you're inspired.
Compact Size
Practice without worrying about excessive volume levels.
Over 1000 High Quality Sounds
48 preset drum kits and 95 preset songs cover a wide range of musical genres.
Feels, Plays and Sounds like Acoustic Drums
Great for playing live or recording.
External MIDI Devices
Enter the amazing world of DeskTop Music. Expand the system with external MIDI devices or computer.
Play with the Preset Songs
Virtual Session lets you play with the preset songs. Groove Check function offers expert training.
48 Preset Drum Kits
Beginners will enjoy practicing with voices and drum kits that cover a wide range of genres. The over 900 drum and percussion voices are grouped in drum kit presets that cover styles like Jazz, Rock, Hip Hop, Latin and more. Original kits are easy to create and can be stored for quick access in the User Area's 32 memory locations.
Voice Edit
Once you've got the basics down, edit drum kit, voice and trigger settings to create a sound that suits your taste. You can edit the effect, volume and pitch of each voice to create your own original sounds. Drum kits stored in the user area can also be edited freely.
Precise Trigger Edit
Sensitivity and dynamic settings for each pad can be fine-tuned to your liking. This allows you to tailor the sound and response to fit your particular playing style.
ZAP Function
The 3 most often accessed edits; "Pad Sensitivity", "Volume" for individual pad voices and "Total EQ" are quickly accessed with a double-click of the appropriate key. This allows for quick edits and lets you concentrate on playing.
95 Preset Songs
Fine-tune your skills with Virtual Session and Live Rehearsal. The collection of 95 preset songs, covering a wide range of musical styles, provide an extensive song library from which to choose. To play along with any of the songs just mute the drum part and play. This function makes practice enjoyable and sharpens your skills immensely. Original songs can be created, stored in the 32 user memory allocations and used in the same manner.
Pads Put You In Control
The pads can also act as switches that send commands for various functions. Hit a pad to start or stop playback of a sequencer. Use the Note Chase function to trigger a programmed fill or effect.
Virtual Session
Connected to a MIDI device the DTXPRESS can be used as a MIDI tone generator for playing GM song data from a sequencer. Cancel the drum part, just as with preset songs, and play along in a "Virtual Session".
Live Rehearsal, Groove Check
Recording your own performance is quick and easy. After recording, replay your performance to check how well you did. If you want an impartial judgement, the Groove Check function will provide you with a report card on your timing accuracy and overall feel of the groove. Such feedback will be a positive influence in your training sessions.
Gear Review #5 - Yamaha DTXpress II Electric Drumset
Hey hey hey! Here's my gear review for my Yamaha DTXpress II Electric Drumset! Yamaha DTX-II is going to my audio interface, and being recorded on ...
Specs
| | |
| --- | --- |
| Tone Generator | 16 bit AWM 2 (PCM) |
| Maximum Polyphony | 32 |
| Voices | 910 drum, percussion voices and effects, 128 keyboard voices (AWM2) |
| Sequencer Tracks | 2 (TR1, TR2) |
| Song Trigger Control | Start/Stop, note chase, cut off |
| Songs | 95 preset plus 32 user memory locations |
| Record Modes | Real-time |
| Controls | LED push switches: 6 (PLAY, TRIGGER, UTILITY, VOICE, CLICK, SONG); Push Switches: 9 (START/STOP, SAVE/ENTER, SHIFT, PAGE UP, PAGE DOWN, SELECT-, SELECT+, VALUE-, VALUE+); ROTARY VOLUME: 4 (MASTER VOLUME/ POWER SW (push), ACCOMPANIMENT VOLUME, AUX VOLUME, CLICK VOLUME) |
| Display | 16 x 2 LCD display (with Back lit) |
| Front Connections | Aux input (stereo mini jack) Headphone (stereo phone jack) |
| Rear Connections | MIDI input, output, Foot controller (stereo phone jack), TO HOST SELECT, TO HOST (mini DIN jack), Output L/MONO (mono phone jack), Output R (mono phone jack), Trigger input 1-8 (stereo phone jack-L: trigger, R: sw): 8; Trigger input 9-10 (stereo phone jack-L, R: trigger):1; Trigger attenuation switch 1-6 (DIP SW) |
| Power Supply | DC 12V/AC adapter (PA3-B) |
| Power Requirements | 4.8W (DC) |
| Dimensions (W x D x H) | 240 x 220 x 44mm (9-3/16″ x 8-11/16″ x 1-5/16″) |
| Weight | 1.6kg (3 lb. 8 oz.) |