Yamaha DTXP4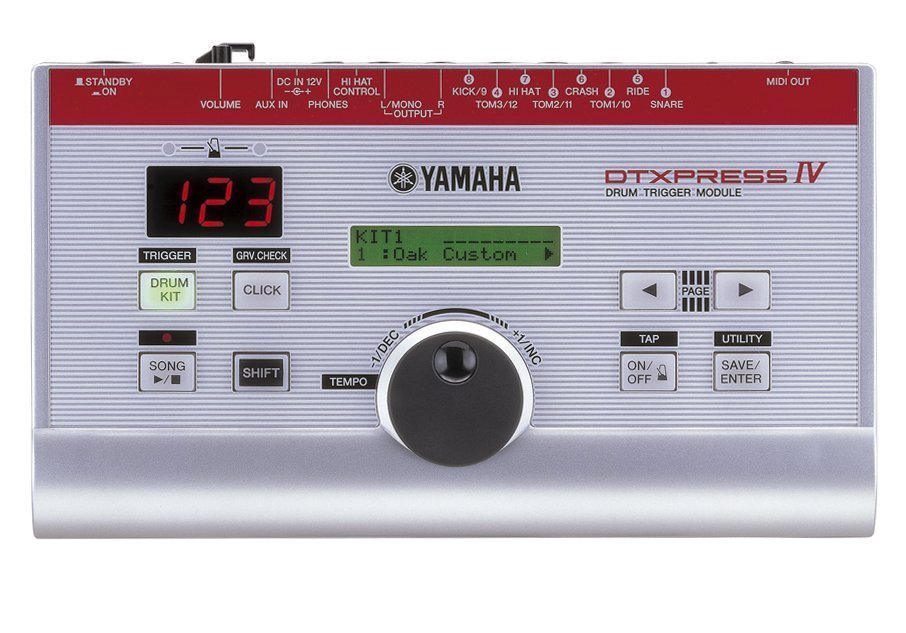 The DTXPRESS IV features an excellent selection of Yamaha acoustic drum samples including new audio waveforms of Yamaha Oak Series acoustic drums that deliver powerful tone with a solid fundamental. The unit is also compatible with 3-zone pads and pad controller functions, giving it greater expressive power and playability. A large LED dis- play makes viewing information, such as tempo or modes, easy to see at a glance.
Electronic Drum Kit :: Yamaha DTXpress IV 4 Review
http://www.Twitter.com/GRLSam Something a little different for my subscribers! I've been playing drums for about 12 years now, and I thought I'd share my ...
Specs
Size/Weight
Dimensions
Width
252mm
Height
147mm
Depth
52mm
Weight
Weight
898g
Voices
| | | |
| --- | --- | --- |
| Tone Generation | Tone Generating Technology | AWM2 |
| Preset | Number of Voices | 449 Voices/427 Drum, Percussion Voices, 22 Keyboard Voices |
Songs
| | | |
| --- | --- | --- |
| Preset | Number of Preset Songs | 3 Demo Songs, 41 Training Songs, 19 Pad Songs |
| Playback | Number of User Songs | 20 User Songs |
Functions
| | | |
| --- | --- | --- |
| Overall Controls | Metronome | yes |
Storage and Connectivity
Connectivity
MIDI
MIDI OUT
TRIGGER IN
Trigger Input Jack 1, 5, 6, 7 (Standard Stereo Phone Jack L: Trigger, R: Rim Switch) Trigger Input 2/10, 3/11, 4/12, 8/9 (Standard Stereo Phone Jack L: Trigger, R: Trigger)
AUX IN
AUX IN Jack (Stereo Mini Jack)
AUX Pedal
Hi-Hat Controller Jack
PHONE OUT
PHONES (Standard Stereo Phone Jack)
Power Supply
| | |
| --- | --- |
| Power Requirements | DC12V |
| Power Consumption | 13.0W |
Accessories
| | | |
| --- | --- | --- |
| Included Accessories | Power Adapter | AC Adapter (PA-3C) |